---
Lovaine Community Garden is an organic growing space in the heart of North Shields town centre, a two-minute walk from the metro station, in a built-up urban area.Established by residents of Lovaine Place and Cecil St in 2010, on a previous WW2 bomb site, we aim to teach and encourage organic horticulture techniques and eco-consciousness in the local community as a means to improve the immediate environment and to promote gardening and access to nature for personal and community wellbeing.We are a much needed central urban greenspace for people who have no access to their own garden spaces, or who may be unable to access or tend a garden because of physical or financial difficulties, housing constraints, or lack of horticultural knowledge or training.
We run coffee mornings to help combat social isolation and to help strengthen and build community friendships, and gardening clubs so people can benefit from social and therapeutic horticulture and help to improve our little part of North Shields.We also host Live Music Nights and Singaround/Busker sessions so that people can enjoy music in nature within a easily accessible greenspace. Other groups and charities also use the garden for art therapy sessions, holistic therapy, mindfulness and wellbeing groups and members of the public can book the garden for their own events.
---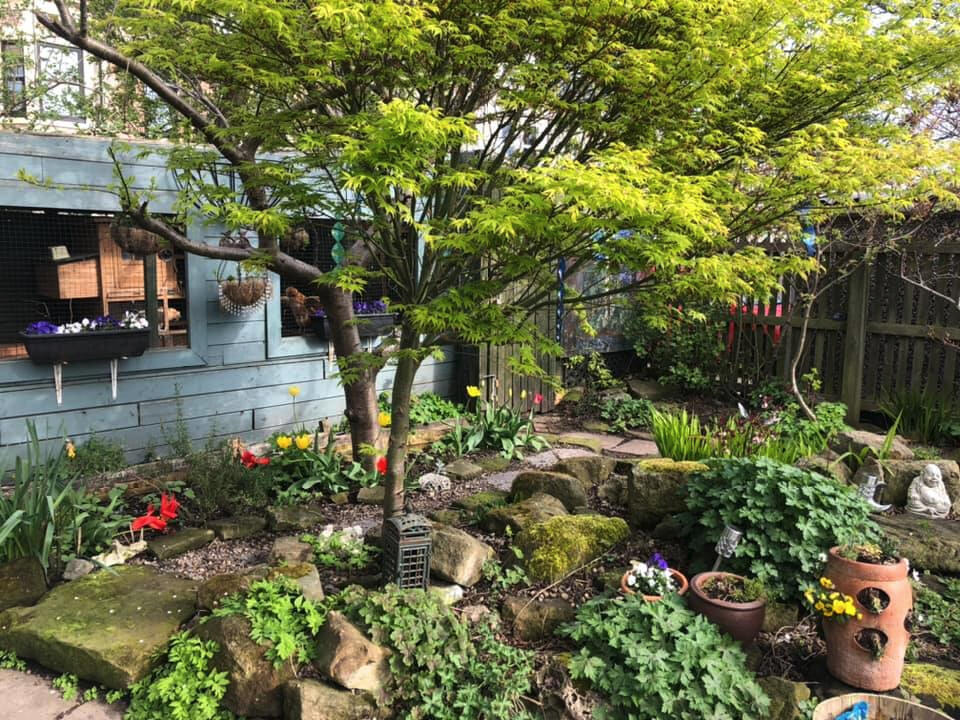 Private Booking
Community Groups, Charities and Businesses can book the garden for their own outdoor events and sessions for their clients and users.
Members of the public can book private slots to use the garden for quiet relaxation in the well-stocked patio garden, to meet with family or friends or to host an outdoor event of their own, such as a tea party, teddies bears picnic, BBQ or an evening round the campfire.
Email us to enquire.
---
What we do
Alongside promoting gardening as a health benefit for physical and mental wellbeing and providing a maintained site to do so - we also distribute fresh produce and excess plants to the local community, organise and run nature, wildlife and craft activities and host open days, community get togethers and cultural events to promote nature and our local area as an inspirational space for art, music, sculpture and poetry.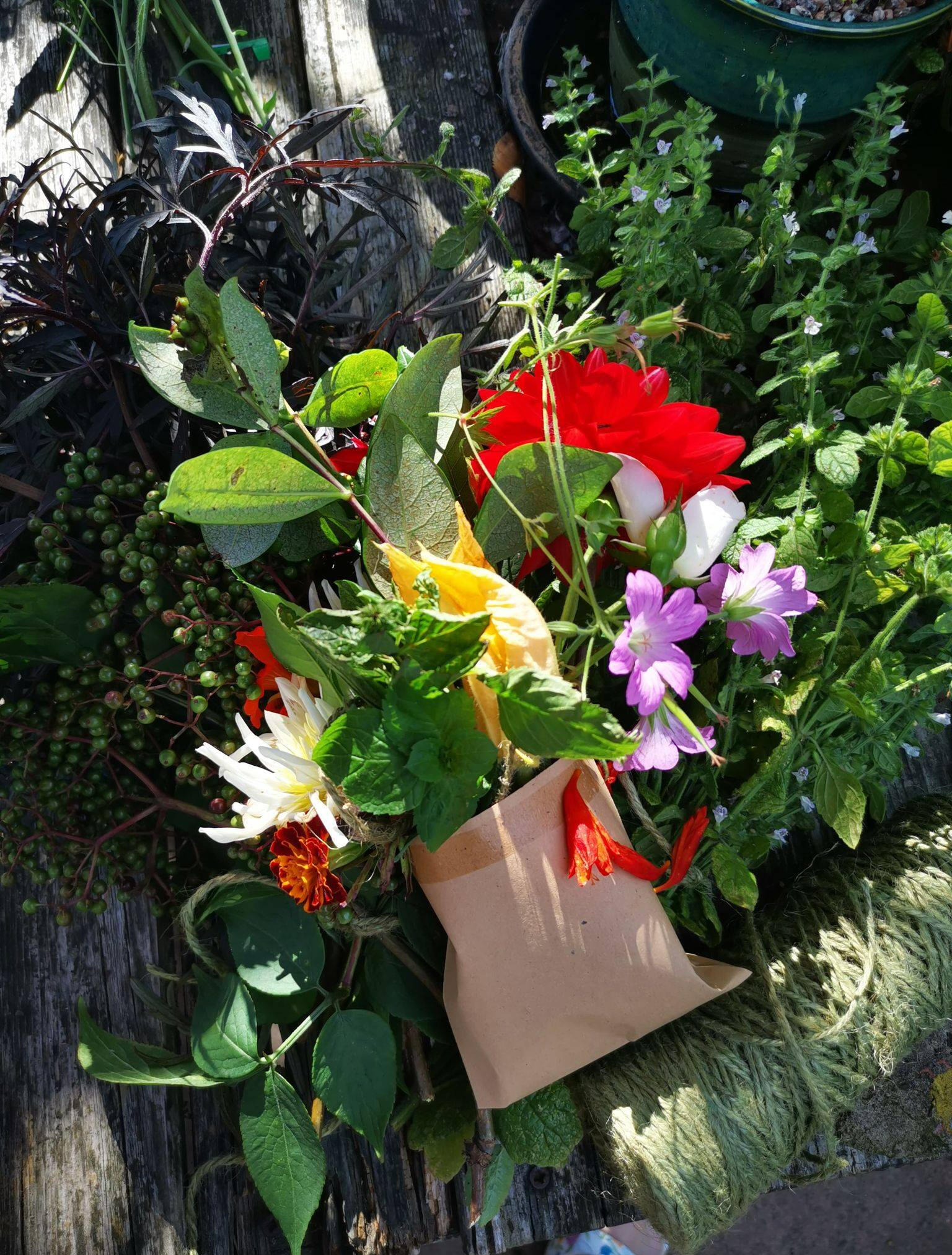 ---
Our Weekly Timetable and Opening Hours
| Day | Event | Time | Notes |
| --- | --- | --- | --- |
| Sunday | Singaround | 1pm - 3pm | |
| Sunday (continued) | Members Meet Up | 4pm - 6pm | |
| Monday | Open to public | 10am - 3pm | |
| Tuesday | Open to public | 10am - 3pm | |
| Tuesday (continued) | Members Meet Up | 4pm - 6pm | |
| Wednesday | Coffee Morning | 10am - 2pm | |
| Thursday | Members Meet Up | 4pm - 6pm | |
| Friday | Gardening Club | 11am - 3pm | |
| Friday (continued) | Play Street Meet | 4pm - 7pm | First Friday of each month (May - Sept) |
| Saturday | Live Music | 7pm - finish | Alternate Saturdays in Summer |
---
Message Sent
Thank you for your message. One of our volunteers will get back in touch within a week of your message.
How do I get involved in the community garden?Come and visit us at our Coffee Morning, Gardening Club, or Singaround Sundays or get in touch with us via email or social media to arrange a visit. You can also book a slot in the garden to meet with the garden coordinator to discuss the use of the garden for your own events or groups and get more information on which groups and services we currently provide.How do I become a Volunteer/User?Anyone can use the garden, you can book a slot via email, here on our website or Facebook. Our regular groups are open to all if you like company but if you prefer to use the garden at quieter times or with a group or for an event of your own, please get in touch.If you would like to volunteer your time and skills at the garden to help improve and maintain our space and be involved in the planning and facilitating of all of our other groups and activities or run a group of your own - just get in touch to let us know what times you are available and what you are interested in helping with or organising.How do I become a Member/Keyholder?Membership is £40 per year per household or £25 concessions. Members hold a key to the garden, but it is advised to book a slot if you plan to use it or you may find it occupied/in use by a private group. We recommend that people get involved as a user or volunteer first and get familiar with the garden before committing to a membership. Members will need to provide a form of ID and complete an induction session.Do I have to be a member to book?You don't have to be a member to book a private session or plan an event and we will do our best to accommodate your booking, however all keyholders are volunteers/members and there may be times that no one is available to give you access to the garden. If you email us with plenty of notice and with your necessary requirements we will do our best to make sure access is possible. If you plan on using the garden often, membership comes with a key so you can still access the garden even if our usual team are unavailable.Can I use the garden for my business or group activity?You can use the garden for your business or group to hold a workshop or event after joining as a member – we ask that if you are charging/have charity funding or are making a profit from your group/event that a fair percentage of profit from each session held be donated to the garden so that we can continue to cover our bills and keep making improvements to the space.What times are you open for the public to drop in?Weather Permitting, we are usually open 10:00 - 15:00 on weekdays (except Thursday). Please check our timetable for our regular social groups and other events. The garden is available to book outside of our regular hours for your own use/event. Bear in mind that even within our usual hours, there may be a private group or event booked and full garden access is not always guaranteed.Will I get my own raised bed/garden patch?Our gardeners and volunteers plan and maintain the garden together, with a view to providing a colourful, vibrant but peaceful and private greenspace for others to enjoy and use as an outdoor event space. We garden organically and with an emphasis on permaculture/wildlife. The garden is quite small and there is not enough room for allocated space/beds per person. Instead, we maintain the garden together, making a yearly plan and with allocated areas for different kinds of produce, ornamental and wildlife areas.What facilities are there at the garden?There are tables and chairs available for groups, a BBQ and a firepit. The garden is off-grid so there is no electrical hook-up. There is water on-site and hot water and crockery for tea/coffee can be provided for events/bookings. There is a composting toilet (for wee's only!). You can bring your own food and drinks.Are dogs welcome?We have a small poultry flock in the garden who may at times be free range. All dogs must be always on a lead unless proven livestock safe. Please don't allow dogs to dig, chew plants or go into the flower borders/off the paths. You must clean up after your dog. We have a resident livestock dog, so if your dog is unsure of other dogs, excitable, nervous, high prey drive or unused to livestock, please check before arriving so we can make sure it is stress-free and any loose livestock and resident cats and dogs are secured.Are children welcome?Children are welcome and we do run events specifically for children, with activities to keep them entertained such as our Play Street Meet events or other seasonal events such as Easter Egg hunts and open days or play days.We can provide activities/equipment to keep small children engaged such as chalks, bubbles, paddling pools, craft/art equipment or water/sand /sensory play.While we welcome children to explore the garden and encourage guided discovery/play in nature, we advise parents to be aware that the garden has uneven surfaces, and tender plants and crops, as well as livestock. As such, we ask that children are supervised at all times and to discourage children from running, climbing trees, or chasing livestock, that they are mindful of the plants/flowers/produce and to stay on the paths/main areas and not climb on border edging or into flower beds/borders.Can I harvest produce?We prefer that planting and harvesting crops, flowers and produce is done with guidance or permission from the Garden Co-Ordinators. We usually post on social media when various produce is available, fruit for example, so that people can come and pick their own when it is ready and at its peak production. Any excess produce is available to members, or to visitors to take for a small donation.